David Savage

...they don't write them like this anymore!
So many songs in folk clubs are depressing. Younger singer/songwriters regale us with angst ridden tales of failed relationships, whilst the standard fare for more traditional singers is murder, robbery, disease or transportation! There are no deep and meaningful songs on this page; old or new they are sung for pure amusement and entertainment. You'll find a few more dodgy songs on Love, Lust and Married Bliss..... especially
Nine times a night, The German Musicianer, Molecatcher's Trap, The Widows promise & She loved a Portuguese.
YORKSHIRE COUPLE written in the '70s by Jim Mackie of Pontefract, it can be found on his 2007 CD "Sailing Home" The tune is "Female drummer boy"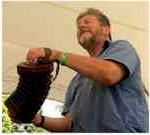 Jim Mackie's own version of Yorkshire Couple can be found on his 2007 CD Sailing Home
DEAD DOG CIDER - written by the late Trevor Crozier - haven't fouund it recorded or written down anywhere, other than on youtube.
FIVE FOOT FLIRT Cyril Tawney wrote some wonderful songs - this is one of the least memorable, but I really enjoy singing it!
KEEPER OF THE EDDYSTONE LIGHT I have no idea who wrote this - I have seen it described as a shanty - which it most clearly isn't. I learned it from the singing of Burl Ives back in the 1960s.
MAID OF AUSTRALIA. Traditional from Norfolk, from the singing of Harry Cox. I guess that a Norfolk village lad's imagination sometimes runs riot!
FINE TIME TO TRY FOR A FEEL I once won a 'Country and Western' Karaoke competition with this Irish Parody of Lucille, written by Seamus Moore. There is a nowadays suspect word in the penultimate verse - please don't be offended, but I can't think of another word to rhyme with 'ear'.
SCARLET RAYGUN - a great parody by John Conolly of Cleethorpes, who also wrote Punch and Judy man and Fiddlers Green.
CLARENCE I've always liked this song but I can't sing it any more in public as it is decidely politically incorrect and liable to cause offence. It was written by John Mitchell, who was very gracious when some years ago I sang it at Whitby and he was in the audience!
However, if you are easily offended, please don't listen!
SICK NOTE written by, but seldom credited to Pat Cooksey and plagiarised by Gerald Hoffnung!
THE WIDOW AND THE FAIRY Credited to Fred Wedlock, but I've not found a recording of it by him. It was recorded by The Corries, but I learned it from Keith Cheale of March.